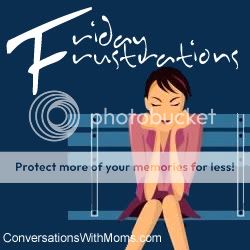 It's Friday, time for some frustrations according to
Conversations with Moms
, and this Friday my biggest frustration has been my internet connection.
We recently switched internet providers because I could not stand Telus's lack of customer service, that and FD (Forgetful Dad) wanted satelitte tv, more channels, more sports, you know how men are.
So we went with Bell expressvu, and they have something called portable internet. At first I thought (wow!) internet that is portable. You mean I can take it with me? Anywhere I want?
Well almost anywhere. The internet works off towers, so where ever there are towers and a signal, there is internet to be had in Canada. So what caused my frustration?
Based on where we live, a tower was like right around the corner, but these damn oak trees and tall buildings were preventing me from getting a signal in my home. That is until we found one--in the upstairs bedroom of all places.
So--FD and I took apart the main computer station to move the desk, my files, drawers and everything I need to work upstairs. I mean I need the internet and with this fancy new laptop I have to get the job done, my favorite new toy by the way, I had to plug the modem into a wireless router so I can be downstairs with the kids if I need to work on the go.
I wish these things didn't have to be so damn difficult, but our only other internet option was a bell stick which runs off cell towers and can cost up to $100 per month. OUCH! That is too much.
Right now we are paying $22 for internet, the cheapest ever and now that I have things working accordingly it's super fast and I now I have signal all the over house, even outside if I want.
So I'm now back online after being off for a couple days, battling with this. Funny how important being online has become to me, work and all, but also to keep in touch with other people important in our lives.
If you participate in Friday Frustrations then please take a minute to visit
Conversations with Moms.